Nato begins clearing Serb barricades in north Kosovo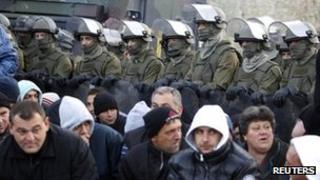 Nato-led peacekeeping forces have begun dispersing ethnic Serb protesters and dismantling their barricades in northern Kosovo.
Troops in riot gear used tear gas to disperse some 100 protesters, who have refused to accept the authority of the Kosovan government.
However, Nato said the operation had gone well, with little violence.
In western Kosovo, one ethnic Serb was shot dead and two wounded by a suspected ethnic Albanian gunman.
Roads in the north have been blocked for several weeks amid a dispute over control of the border with Serbia.
Nato said eight peacekeepers had been slightly injured in scuffles with the protesters.
Local health officials said more than a dozen Serbs had been treated for minor injuries and the effects of tear gas, Reuters reported.
Appeal for calm
Earlier K-For had used loudspeakers to declare: "Go home, otherwise we will be forced to use force."
Protesters said they were determined to stay - though they did not want violence.
"We will stay here, we're not thinking about leaving. We are protesting peacefully, we will not attack anyone," 28-year-old Nenad, at a barricade near the border crossing at Brnjak, told AFP.
Serbian President Boris Tadic is reported to have urged both sides to remain calm and refrain from using force.
Serbian politicians in Kosovo said they were willing to allow supplies for Nato forces to pass through.
But they have insisted that the roadblocks would remain until ethnic Albanian staff were withdrawn from two border crossings used to travel to Serbia.
The barriers were erected in July when the mainly ethnic Albanian government sought to take control of crossing points at Jarinje and Brnjak to enforce a trade blockade against Serbia.
The ban was imposed in response to Belgrade's effective bar on imports from Kosovo.
Village shooting
Serbia has refused to recognise Kosovo's declaration of independence in 2008, and still regards it as a Serbian province.
Ethnic Serbs in the north of Kosovo have also refused to accept the government in Pristina, and largely run their own affairs, with co-operation from Serbia.
They feared the move to put Kosovo Albanian customs and police officials on the border would severely limit their access to Serbia.
The three Serbs attacked on Thursday were visiting property they owned in the village of Dobrusha, about 100km (60 miles) west of the Kosovan capital Pristina.
One of the survivors told Serbian media they had challenged an ethnic Albanian living in their property and the man had produced a gun and shot them.
The suspect was at large after the attack, Kosovan police said, describing the shooting as a suspected "property dispute".