Lufthansa plane diverted to Zurich due to strange smell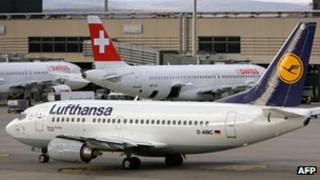 A Lufthansa flight from Frankfurt to Madrid has been forced to make an unplanned landing because of a strange smell coming from the kitchen of the aircraft.
The plane flying from Frankfurt to Madrid was diverted to the Swiss city of Zurich after crew members complained about the odour.
Three of the staff on board have been taken to hospital for observation.
Lufthansa says diverting the plane was a "purely precautionary measure".
The plane was forced to land because of an "undefinable smell from the kitchen", airport spokeswoman Jasmin Bodmer told the Associated Press.
There was no risk at any time to the 85 passengers or the six crew on the Airbus A320, the airline said.
All passengers were rebooked onto other flights to Madrid.