No evidence of criminal damage to Dana's car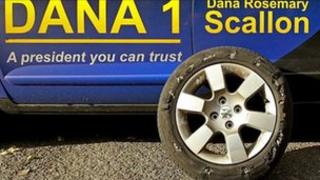 A police investigation has found no evidence of criminal damage to the tyre of a campaign car belonging to the independent Irish presidential candidate Dana Rosemary Scallon.
The rear tyre of the vehicle blew on Tuesday night as Ms Scallon travelled from County Leitrim to Dublin.
When the tyre was examined more than 12 punctures were discovered.
A Garda (Irish police) spokesman said on Monday that there was no evidence the tyre had been tampered with.
There were four people in the car when the tyre blew, including Ms Scallon's husband Damien, who was driving, and her brother Gerald Brown.
Ms Scallon had notified gardai about the incident, after she was informed that the tyre could have been deliberately cut.
She is one of seven people running for the Irish presidency.
The others are Sinn Fein's Martin McGuinness, Michael D Higgins of Labour, Fine Gael's Gay Mitchell and Independents Sean Gallagher and Mary Davis and Senator David Norris.