Turkey earthquake: Three generations survive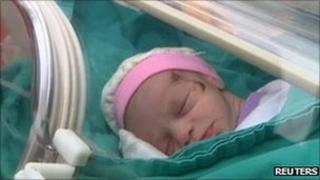 Just 14 days ago, Azra was born in the town of Ercis. On Tuesday, she was delivered from the belly of an apartment building, her first home, which collapsed around after a 7.2-magnitude earthquake struck eastern Turkey.
But her family's extraordinary story, which has given hope to many whose relatives are trapped in the rubble of the 2,000 buildings damaged in the quake, did not end there.
After she was delicately pulled from the rubble, virtually unscathed, Azra's mother, Semiha, was also rescued, and then the baby's paternal grandmother, Gulsaadet, both wrapped in metallic blankets.
"It's a miracle!", said Senol Yigit, the uncle of the baby - whose name means "purity" or "untouched" in Arabic.
"I'm so happy. What can I say? We have been waiting for two days. We had lost hope when we first saw the building," he told Reuters news agency, sobbing.
Azra, a relative recounted, had been brought to the town of Ercis in order to have a safe birth in the town where her grandfather was a doctor.
He described how, around noon local time, rescuers called for silence among the rubble of the apartment blocks when they though they heard female voices.
One managed to tell rescuers that there were three of them inside and they set to work, delicately removing the shattered brickwork and remains of a home that trapped the family.
As Azra Karaduman was removed from the wreckage, rescuers in orange jumpsuits applauded.
Azra was brought out by Kadir Direk, the smallest member of a team from Izmir, who described how he managed to squeeze through the debris and then scoop her off the lap of her mother.
"I was the happiest person in the world when I held her," the 35-year-old told AFP.
"When I took her from her mother, she asked me to give her a second name."
He choose Aysenur, combining the name of the Prophet Mohammed's wife and the word "light".
All three had very minor injuries, considering the force of the quake and the seven storeys of rubble above their heads, home to 22 families in total.
Grandmother Gulsaadet - whose age was reported as both 61 and 73 - had an injured leg, reports said. The shadow of what may be a bruise can be made out on the cheek of the baby girl.
Reports said a a bakery built into the ground floor of the building may have helped them survive, keeping them warm and protected.
The family is still waiting to see if baby Azra's father has survived and can too be rescued.