Croatia arrests Josip Boljkovac over Tito-era deaths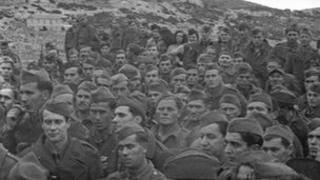 An 89-year-old former Croatian interior minister has been arrested for his alleged role in mass killings shortly after the end of World War II.
Josip Boljkovac is wanted in connection with the deaths of fascist soldiers and sympathisers in 1945-46, say local media.
Mr Boljkovac was a secret police official under the communists who took power in Yugoslavia after the war.
He became Croatia's first interior minister upon independence in 1991.
The former official was arrested at his home near Karlovac in central Croatia early on Wednesday.
During World War II, Croatia was ruled by the fascist Ustasha movement which was closely allied to Nazi Germany.
The communist partisans, who under Josip Broz Tito resisted Ustasha rule and later took power, carried out widespread revenge attacks on former fascists.
At least 30,000 Croatian Ustasha troops were killed.