Euro crisis talks delay China panda loan to France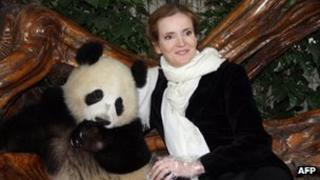 The loan of two Chinese pandas to a French zoo has been delayed because of the focus on the Greek crisis at the G20 summit in Cannes.
"Unfortunately... there was no time for the final discussion between President Hu Jintao and President [Nicolas] Sarkozy," French Ecology Minister Nathalie Kosciusko-Morizet told AFP.
She added that she hoped the loan could be finalised in the coming weeks.
Pandas are often used by the Chinese government as gifts to other countries.
The pandas are to be sent to a zoo in Beauval in central France.
"The panda is such a symbolic animal that such loan agreements require agreement from the highest level in China. That's why it still lacks the final approval," Ms Kosciusko-Morizet said during an official visit to China.
The leaders had had to focus on "the Greek crisis, the sovereign debt crisis, the emergency G20 summit" instead, she explained.
As part of her trip, Ms Kosciusko-Morizet visited a panda reserve near the southwestern city of Chengdu.