Serb man killed and two injured in Kosovo violence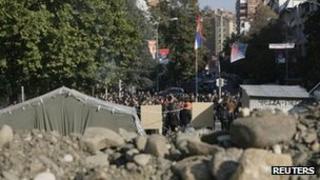 A Serb man has died and two others were injured after clashes with ethnic Albanians in Kosovo, officials say.
Sava Mojsic, 29, died of his wounds in a hospital in the Serb-run part of the city of Mitrovica, police spokesman Besim Hoti told AFP.
The Kosovan government issued a statement condemning the shooting.
Ethnic tensions have been on the rise in the city in recent months after the government tried to take control of border crossings with Serbia.
A statement from the Organization for Security and Co-operation in Europe (OSCE) mission to Kosovo named the two injured men as Veljko Dordevic and Rados Vukicevic. It said that Mr Vukicevic was one of the police officers who responded to the shooting on Wednesday evening.
Local Serb political leader Krstimir Pantic called on the EU's police and justice mission in the country, known as Eulex, to solve the case without delay.
"I cannot control the people," he told Reuters news agency. "People are upset and if Eulex doesn't solve the case, it will be responsible for everything that follows."
Kosovan President Atifete Jahjaga called the incident an "intolerable and unacceptable act that undermines peace and stability in the country", according to the AP news agency.
Northern Kosovo has seen clashes between Serbs and the Kosovan police in recent months after the police tried to take over two border crossings between Kosovo and Serbia.