US charges Moroccan al-Qaeda suspect held in Germany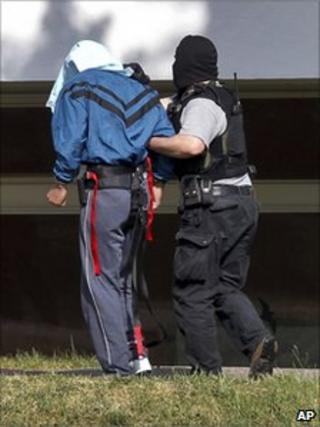 Federal prosecutors in New York have charged a Moroccan man with conspiring to provide weapons and other help to al-Qaeda.
Abedeladim el-Kebir, 30, was detained in April by the German authorities, along with two other men.
He faces charges in the United States of helping to supply Islamist militants with explosives, and of conspiring to possess a destructive device.
The US is seeking his extradition from Germany, a spokesman in New York said.
From November 2009 until his arrest, Mr Kebir worked with unnamed individuals to provide material support to al-Qaeda, including training, lethal substances, explosives and personnel, according to New York prosecutors.
He is also charged with conspiring to possess weapons, including a destructive device, in connection with his agreement to provide material support to al-Qaeda.
The indictment gives no further details about the alleged plot.
If convicted on the American charges, he could face life in prison.
Orders from al-Qaeda
Mr Kebir was one of three men held in Germany in April on suspicion of planning a bomb attack in the country.
They had received orders from al-Qaeda, German prosecutors said at the time.
They said a senior al-Qaeda figure on the Afghan-Pakistan border had given the order for several attacks but targets had still not been chosen.
The three, who were under surveillance, were arrested in Duesseldorf and Bochum after allegedly buying bomb chemicals.
Mr Kebir was charged in Germany with membership of a foreign terrorist organisation. He had been living illegally in the country since May 2010, according to German officials.
The German authorities had been tipped off about his movements by US intelligence after he left an al-Qaeda training camp in the Pakistani tribal region of Waziristan, close to the Afghan border.
Der Spiegel magazine reported that the German secret service was aided by the CIA and Moroccan authorities in a three-month operation to arrest the men.