Portugal's soldiers hold rare protest against cuts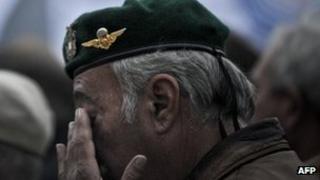 A protest against unprecedented cuts in the pay and benefits of members of the military has been staged in Portugal's capital Lisbon.
But there were no shouted slogans at this rare military rally - that is prohibited by law, as is wearing uniforms at such events.
The armed forces are among many groups in society affected by a EU-mandated austerity programme plan.
It includes some of the harshest measures in Portugal's modern history.
Saturday also saw the latest of a series of anti-austerity protests by public sector workers in the centre of the capital.
Special role
At the army protest, there was anger at government proposals to decimate armed forces numbers and cut back wages and promotions.
Antonio Lima Coelho, one of the organisers, said servicemen and women were willing to make their share of sacrifices, but the government was taking a big risk in rushing through measures that were not properly thought through.
"A military institution is organised in a pyramid way. If we start stopping this pyramid to be well formed, we will endanger discipline, cohesion and the mission of the armed forces," he said.
The military has a special place in society - and in Portuguese hearts.
In 1974, a group of officers ended decades of dictatorship with a coup that ushered in democracy.
But the military gradually withdrew from politics.
So, many people were taken aback when one of the leading conspirators of 1974 said in a recent interview that another coup would be in order if the government went too far in curbing the military's rights.
Military associations were quick to dismiss the comment from a man known for his radical views, stressing their commitment to the constitution.
For now at least, this is just one more group in society angered by policies being implemented under Portugal's bailout.