Dublin GAA to look at buying cheap Nama land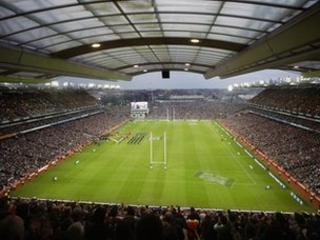 The GAA in Dublin has been urged to approach the Irish Republic's National Asset Management Agency (Nama) with the view of buying low-price land for sporting facilities.
The plans were unveiled by the association at Croke Park on Monday, as part of a six-year strategy for Dublin GAA.
It wants to buy land from the "toxic bank" to build a 25,000-seater stadium.
There are also plans for two centres of excellence in the city.
Nama now controls much of the vacant land around Dublin as a result of taking on 70bn euros (£59bn) in debts from troubled financial institutions and developers hit by the economic crash.
Its vast land bank could provide a lifeline for many other GAA clubs who are struggling with existing facilities, according to the Irish Independent.