Mario Monti: 'Italy can overcome crisis'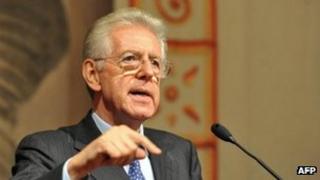 Italy's Prime Minister-designate Mario Monti has said he is convinced Italy can overcome its financial crisis.
After consultations with political parties, unions and employers, Mr Monti said he would present his government to the president on Wednesday.
All those he spoke to were ready to make some sacrifices for the national good, Mr Monti said.
Earlier, Italy's cost of borrowing rose again past 7% amid ongoing nervousness about its high level of debt.
"I would like to confirm right now my absolute serenity and conviction in our country's ability to overcome this difficult phase," Mr Monti told journalists after two days of consultations.
He declined to give details on the make-up of his government but said: "I can reassure you that in the next few hours, I will fine-tune precisely the various aspects of a well-defined picture, and that tomorrow morning I will be able to present the conclusions of this work to the president."
He has been under pressure to put together a government of technocrats that can cut down Italy's 1.9tn euros ($2.6tn; £1.6tn) public debt and restore economic growth.
He has the backing of the main political parties but he still needs approval from both houses of parliament before he can take office and push through tougher austerity measures.
It is not clear if his cabinet will include politicians or consist entirely of technocrats such as himself.
Only one party, the right-wing Northern League, says it will withhold its support.
Mr Monti, an unelected technocrat and former EU commissioner, has said he will "act with urgency" to address Italy's deep-rooted economic problems.
He also intends to remain in office until the end of the current legislature - 2013.
But he has not yet revealed details of the economic reforms he might try to implement.
He was appointed on Sunday after emergency austerity measures were passed by parliament, triggering the resignation of former Prime Minister Silvio Berlusconi.
Sensing continuing uncertainty, bond traders drove Italy's cost of borrowing past 7% again on Tuesday, the level at which Greece, Ireland and Portugal were forced to accept bailouts.
The Italian bond rate reached a record of 7.48% last week, draining investor confidence and hastening Mr Berlusconi's departure.