Profile: Spain's Mariano Rajoy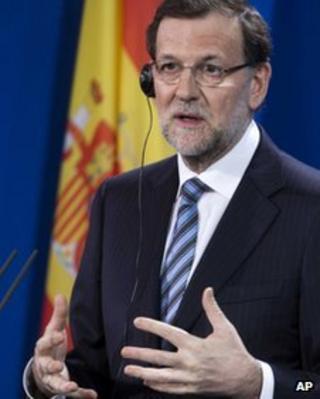 Mariano Rajoy is the patient man of Spanish politics, rewarded in 2011 at his third attempt to lead the conservative Popular Party to victory in a general election.
But tasked with steering his country through its worst economic crisis in recent history, he has found himself embroiled in a corruption scandal that has unnerved Spanish voters and markets alike.
His supporters see him as the crisis manager needed to avert a Spanish bailout, schooled in government under former centre-right PM Jose Maria Aznar.
Critics accuse him of misleading voters into thinking he is a moderate, while harbouring a hidden agenda of economic shock therapy.
Friend and foe alike agree that the lanky man in glasses is not the most charismatic of politicians but Mr Rajoy, in fairness, does not promise fireworks.
The walker
Born the Catholic son of a lawyer in 1955, Mariano Rajoy was brought up in Santiago de Compostela, studied law and became a land registrar.
The married father-of-two is known to be a fan of cycling and the Real Madrid football team.
The moderate cigar-smoker's own idea of exercise is a good walk.
He first grew his beard when injuries from a serious car crash prevented him from shaving.
December 2005 saw another narrow escape when his helicopter crashed after taking off from a bullring outside Madrid. He walked away with a broken finger.
Politically, Mariano Rajoy is also a survivor.
'Bitter moments'
Elected a regional deputy for the Popular Party at the age of 26, he climbed through the ranks, serving as a minister in the Aznar governments of 1996-2004.
He was, successively, minister of public administration, education and culture, and the interior, and was chosen by Mr Aznar as his preferred successor at the 2004 election, when the party was tipped to win a third term.
In the event, the Popular Party (PP) crashed out of office, its shock defeat blamed on the Madrid train bombings and the outgoing prime minister's handling of the atrocity.
As leader of the opposition, Mr Rajoy struggled to rebuild the PP's fortunes and was defeated again in 2008, though the party increased its share of the vote and seats.
If anything has changed since the last election, reports suggest, it may be that Mr Rajoy has turned down the volume on the party's hardline rhetoric about the Basque separatist group Eta, when it declared an end to its armed campaign in 2011.
He remains a social conservative, seeking to deny girls under 16 the right to abortion without parental consent and, on gay relationships, saying he prefers the term "civil union" to "marriage".
Though he is no stranger to European politics, regularly attending meetings of the centre-right European People's Party, he is "not very interested in foreign policy", correspondents say, with some suggesting the Spanish leader struggles with language issues when it comes to dealing with Brussels.
Mystery man
The Spanish stereotype of Galicians as a closed people, reluctant to give a straight answer, appears to be borne out in Mr Rajoy's case.
Mr Rajoy, a social conservative from a strong Catholic, provincial background, appears to have little time for the young urban demonstrators of the Indignado movement, or Spain's trade unions.
Yet under the former interior minister's leadership, the Popular Party was seen as moving closer to the centre ground of Spanish politics, ditching the party's ideological, authoritarian old guard.
Confidence in Mr Rajoy was shaken in late January when the newspaper El Pais published images of documents allegedly showing secret payments to PP members - including the prime minister.
He denied receiving illegal money, saying his government remained strong and would overcome the accusations, which have sparked protests and an online petition for his resignation signed by 850,000 people.
While he received the backing of both German Chancellor Angela Merkel and the IMF who said his government's austerity package was progressing well, the scandal unnerved Spanish voters and markets alike.
The conservative leader's staying power may prove a crucial factor: The challenge for the great pedestrian lies in getting the country to run with him, and last the pace.