Disgraced Boston cardinal retires from new Rome job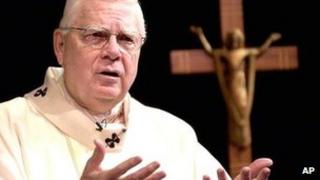 Cardinal Bernard Law, who was forced to resign as archbishop of Boston in 2002 over a sex abuse scandal, has retired from his subsequent job as head of a major basilica in Rome.
The Vatican said in a statement Santos Abril y Castello from Spain would now take charge of St Mary Major Basilica.
Cardinal Law was accused of having moved paedophile priests from parishes rather than confront the problem.
Cardinal Law's Rome appointment was criticised by abuse victims.
He celebrated a Mass of mourning for Pope John Paul II and remains an influential Church figure.
He was the first and, so far, only US bishop to resign for mishandling cases of priests who sexually abused children, the Associated Press news agency reports.
The Boston Archdiocese avoided bankruptcy by agreeing to sell land and buildings for more than $100m (£63m) to fund legal settlements for more than 500 abuse victims.
As an 80-year-old, Bernard Law can no longer elect a pope in a conclave, but will remain a cardinal.