Tymoshenko 'life not in danger', prison service says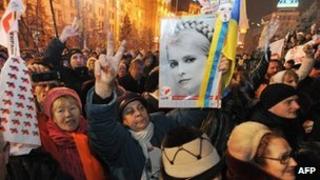 The authorities in Ukraine have returned Yulia Tymoshenko to jail after medical tests reportedly showed she had no life-threatening medical condition.
The former prime minister was apparently taken from her prison in the capital Kiev to a hospital and brought back within a few hours.
Her lawyer said her defence could not trust the official account given of her state of health.
Tymoshenko, 50, was controversially jailed last month for abuse of office.
She was sentenced to seven years over a gas deal with Russia which she oversaw while prime minister in 2009.
Western governments have criticised the sentence, which many believe was politically motivated, and she herself has accused President Viktor Yanukovych, a long-time political opponent, of orchestrating a conspiracy against her.
On Tuesday, Mr Yanukovych announced that she would be allowed out of jail for medical treatment after concern over her health. Reports indicated she was suffering from severe back pain.
On Wednesday, Ukraine's prison service announced she had undergone medical checks at a Kiev hospital.
"As a result of Tymoshenko's checks, no life-threatening pathological changes were found," its statement said.
'We don't know'
Sergei Vlasenko, Tymoshenko's lawyer, told reporters he believed she had been returned to the prison at 10:00 (08:00 GMT).
He said the details of her health condition given by the prison service were vague and he believed that no blood sample had been taken.
"We don't know what they did to her or what the results are," Tymoshenko's lawyer added.
On a visit to Kiev this week, Lithuanian President Dalia Grybauskaite said EU states had been shocked by the conviction of the Ukrainian opposition leader.
"The dominant view in Europe is that Tymoshenko and her colleagues have been victims of a political neutralisation campaign," she said.
Before Tymoshenko's trial, Kiev had been hoping to conclude deals on association and free trade with the EU.
Tymoshenko was recently charged with new offences dating back to the 1990s, including tax evasion, theft and concealing foreign currency revenues.