Berlusconi may call Clooney and Ronaldo as witnesses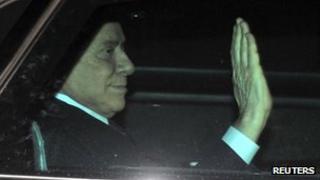 An Italian court has ruled that Silvio Berlusconi may call the actor George Clooney and footballer Cristiano Ronaldo as witnesses at his sex trial.
The Italian ex-prime minister is accused of paying for sex with an under-age prostitute.
Alleged prostitute Karima El Mahroug has said Clooney was at a dinner in Mr Berlusconi's house - a claim he denies.
Testimony from Clooney would undermine her credibility, a BBC correspondent says.
Clooney and Ronaldo are among 78 people Mr Berlusconi's lawyers have named as possible defence witnesses.
The prosecution has drawn up a list of 136 witnesses, including Ms Mahroug, a Moroccan-born nightclub dancer who is often known by her stage name Ruby.
It is by no means certain that all the witnesses will be summoned to the trial, the BBC's Alan Johnson reports from Rome.
Mr Berlusconi, who is also accused of abuse of office, faces up to 15 years in jail if found guilty.
He denies any wrongdoing and says the charges are politically motivated.
Denials
The trial, which opened in April, has been delayed by procedural issues.
Prosecutors allege that the Italian leader paid for sex with Ms Mahroug while she was still 17, an offence under Italian law. They maintain that the prime minister had sex with her on 13 occasions.
Mr Berlusconi, who resigned as prime minister earlier this month amid Italy's mounting economic problems, denies having sex with Ms Mahroug.
She has also denied having sex with him, or being a prostitute.
The abuse of office charge relates to an intervention by Mr Berlusconi to have Ms Mahroug released from police custody.
Mr Berlusconi is also a defendant in several corruption trials in Milan, and attended a tax fraud hearing on Tuesday.
A court official quoted by AFP news agency on Wednesday said the judge in the sex trial would decide on a case-by-case basis whether specific witnesses would be called.
"Usually if they're called they have to come but if they didn't come, we wouldn't send the police after them," the official said.
In an interview with Time magazine in October, Clooney said he had been called by Mr Berlusconi's lawyers.
"I spoke to their people and said, 'I will come and testify if you'd like,' because I wasn't at the party that I was said to have been at," he said.
"I wasn't at his 'bunga bunga' party," he added, referring to the nickname for the alleged sex parties at Mr Berlusconi's house.
Clooney added that he had been at "another party" which he attended in order to speak about the humanitarian crisis in Darfur.
Ronaldo, who plays for Real Madrid, has been called by the defence because Ms El Mahroug alleges she had sex with him - an allegation he denies.