RTE staff members step aside for duration of probe into Fr Reynolds libel case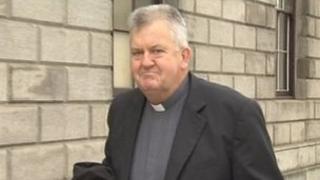 The managing director of RTE News and Current Affairs Ed Mulhall has decided to step aside from his role while an independent investigation is carried out.
It follows a Prime Time Investigates documentary which made false allegations against a priest.
The programme claimed Fr Kevin Reynolds had fathered a child with a minor.
Several other staff in news and current affairs have also stepped aside while the probe is completed.
The Broadcasting Authority of Ireland (BAI) will investigate the circumstances which led to the broadcasting of 'Mission to Prey' last May.
It will report back in two months' time.
It is the first time the station has been investigated by the BAI.
RTE's director general Noel Curran said the libelling of Fr Reynolds was "one of the gravest mistakes" RTE had ever made.
The documentary accused Fr Reynolds of fathering a child with a minor in Kenya. It later emerged the allegation was untrue and RTE paid a substantial settlement to the cleric.
Independent inquiry
Mr Mulhall's decision to step aside was by agreement with Mr Curran.
The editor of current affairs Ken O'Shea will also stand down from his role for the duration of the inquiry.
RTE said the executive producer of Prime Time Investigates, Brian Pairceir, and reporter Aoife Kavanagh would not be involved in any on-air programming for this period.
The Irish broadcaster said the next series of the Prime Time Investigates programme had been deferred until editorial reviews have been completed.
On Wednesday, Minister for Communications Pat Rabbitte said the defamation of Fr Kevin Reynolds by RTE had raised grave issues.
Speaking on Morning Ireland, Mr Rabbitte said he could not remember a lapse of such magnitude.
He said public anxieties had to be addressed.
On Tuesday night, Taoiseach Enda Kenny said it was important the high standard of journalism at RTE was restored.