Portugal strike: 'Worried about the future'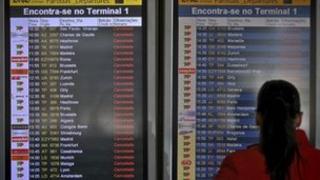 A 24-hour strike in Portugal has grounded flights and halted public transportation in protest against proposed austerity measures.
Air traffic controllers and workers on Lisbon's metro system were the first to go on strike late on Wednesday.
BBC website readers in Portugal have been getting in touch with their views on the day of action and the country's economic situation.
Diogo Rodrigues, Lisbon
I cannot afford to strike because I work for myself running my own real estate business and I need to earn money. We have lived above our resources for the last 30 years and now we are paying the price.
Something needs to be done to get public finances on track, balance the budget and pay our debt. The feeling is that the richer are getting richer and the poorer are getting poorer. Small businesses are being suffocated.
There is this feeling that merit and excellence are not appreciated as they should be and that huge deals are being made and will be made on the back of this austerity plan, by politicians, bankers and so forth.
I understand why people are striking because they are affected by the cuts that are being made. I sympathise with their views but those public transportation companies are in debt and another day that they are shut down will affect their finances.
I am a real estate agent and business is not doing well. People don't have money to buy houses and I am worried about the future. Portugal is being run from outside the country, by the IMF (International Monetary Fund), the EU, the European Central Bank, the rating agencies and their bailout plan.
We are in this mess, it is our fault and I appreciate the help that we are getting. But we are not being given this money for free: we are paying it back with interest.
We have to comply with the government decisions, otherwise this money won't be sent. I am worried that things could get like Greece. We watch the news everyday and we see what is happening.
Andre Almeida, Carnaxide, Portugal
I agree with the strike. The government has made too many mistakes regarding public finances, and the people are now paying.
There was a private bank scandal which led to a bailout in the millions. Private-public enterprises employed dozens of redundant and ridiculously paid administrators (some were even paid more than the president himself) and they were given privileges such as luxury vehicles with a driver, and as such, these enterprises accumulated massive debts.
The average wage in Portugal is now in the region of 650-800 euros (£560-£689; $867-$1,067) a month and minimum wage at 450 euros.
Taking into consideration that the average price of letting a 60sq metre (650 sq ft) flat in Lisbon is 700-800 euros, it is really tough to live in this country nowadays.
There is no control or penalties on companies who make their workers work more hours than legally allowed without paying overtime.
Recent studies have also shown that the Portuguese work more hours on average than the Germans.
At the moment, I am taking my PhD in Lisbon after doing both my degree and MPhil at Cambridge.
Portugal has been doing amazingly at investing in science and higher education in the past decade, which led me to come back.
Now, higher education has received budget cuts in the order of 40%. This is regarded as extremely unfair by higher education professionals, as universities and research do not create any debt and do keep to their budgets, unlike most of the hundreds of private-public enterprises set up by the former government.
Coimbra University (which is as old as Cambridge and Oxford) is set to close down because of the budget cuts as it simply cannot maintain professors and competitive research with budgets as low as these.
Pedro Amaral, Lisbon
The general strike held today in Portugal brings hope to the two major unions that a major part of the working class has joined in the effort.
Word of mouth, however, shows that a good part of the population agrees and understands the need to show the political power that they are less than happy to bail the country out of problems created mostly by the banking system.
At the same time, people realise that it was going to be tough despite the recent elections in which the current government was elected to tackle those very problems.
People are mostly willing to go through the storm as fast as possible in order to see some results.
A large part of the Portuguese people feel uneasy about the fact the country is in debt. There is general consensus that we will honour and pay for it no matter what.
So, in the end, many of us feel this to be yet another waste of time and productivity, that we struggle each day to improve.
More of your comments
People are very upset by the state of political and economical affairs in Portugal. Why are we paying for something we haven't done? Why are the governments not responsible for their bad decisions? They have left the country poorer and with a greater feeling of desperateness amongst the people. We are tired of seeing things done the same way by our politicians. It seems we no longer hold a democratic system but one which serves the interests of few people. Enough of the hypocrisy. Maria, Lisbon
At my workplace, the great majority will be working today. Those who choose not to come in to work today are taking a paid day off. Across the country, many opt for this solution, particularly if they commute and depend on public transportation. Like most of my family and friends, I do not support this strike. These days, general strikes are detrimental to the country's recovery and, frankly, have little if any positive results. And yes, I am unionised and do support the right to strike - but now is not the time for it. Isabel Ferreira, Lisbon
I personally have strong feelings against this strike. In dire times where productivity is in demand more than ever, these public sector strikes do more harm than good. From my contact with colleagues around me, I get the feeling that many of those working in the private sector disagree with these strikes. This is a time to do our best for ourselves as individuals, community and country. We may not agree with how the economy works, locally and globally, but the fact is we (Portugal and the western world) have been living well above our means for long enough. As much as it may hurt, the time has come to pay our debts. In spite of this, I think what many Portuguese resent is that the "same old" end up paying for the economic crisis (lower and middle classes). I hope for brighter days ahead, but I'm not sure we can expect them. Sergio Morgadinho, Leiria