Sofitel hotel group denies Strauss-Kahn CCTV film claim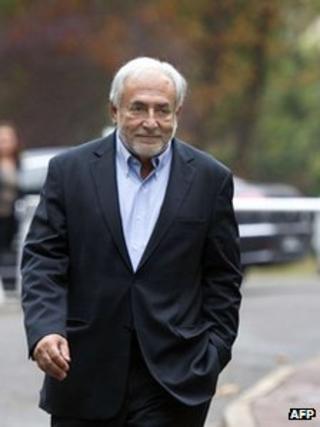 A hotel group has rejected claims that a video showed two employees celebrating after police were called to investigate Dominique Strauss-Kahn.
The allegations are made in a report in the New York Review of Books about the former IMF head's arrest in May.
According to the report, the New York Sofitel hotel's chief engineer and another man are seen clapping hands and dancing for three minutes.
The hotel group said the film lasted eight seconds and there was "no dance".
Mr Strauss-Kahn's arrest followed allegations of assault made by hotel maid Nafissatou Diallo.
The criminal case against him was dropped by prosecutors who said she had lied about details in the allegations. She has continued to pursue a civil case.
The scandal led not only to Mr Strauss-Kahn's resignation from the International Monetary Fund but also to the end of his hopes of running for the French presidency next year.
'Grotesque'
The latest allegations, made by US journalist Edward Jay Epstein, have revived suggestions from some supporters of the former IMF managing director that he was the victim of a plot.
Mr Epstein also quotes unnamed sources close to Mr Strauss-Kahn as saying he had been warned in a text message on the day of his arrest that an email he sent to his wife from his BlackBerry had been read in the offices of French President Nicolas Sarkozy's UMP party in Paris.
UMP party leader Jean-Francois Cope dismissed claims of a plot on Sunday as "grotesque".
In researching the article, Mr Epstein looked at the hotel's electronic key records, CCTV footage and phone records dating back to 14 May 2011.
He alleges that one hour after Nafissatou Diallo informed hotel staff of the alleged assault, a call was made to police.
Less than two minutes later, according to Mr Epstein's account, two men who had just been with Ms Diallo "high-five each other, clap their hands, and do what looks like an extraordinary dance of celebration that lasts for three minutes".
In a statement, Sofitel insists there was no "celebratory dance" and "in reality, these facts lasted eight seconds" and adds that the two employees "categorically denied this exchange had any link whatsoever with Mr Strauss-Kahn".
Speaking on French radio on Monday, the head of security for Sofitel's parent group, Accor, at the time of the incident argued that no conclusions could be drawn on the basis of eight seconds of video.
"Nothing says that they congratulated each other after hearing a woman say she'd just been sexually assaulted," Rene-Georges Querry told Europe1.
Mr Epstein has responded to Sofitel, suggesting that he would be prepared to release the content of the video as soon as he is given the go-ahead by his sources, possibly on Tuesday.