Eurozone master plan unveiled as clock ticks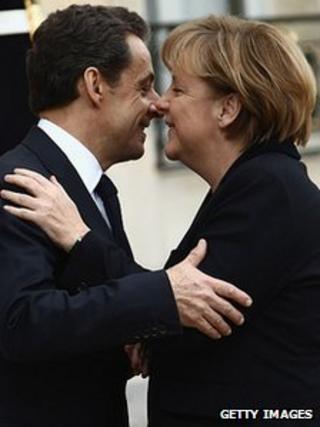 This master plan delivered by President Sarkozy and Chancellor Merkel is aimed at delivering one simple, clear message: That the eurozone will never again allow member states to over-spend and run up large deficits.
"What we want," said President Sarkozy, "is to tell the world that in Europe the rule is that we pay back our debts and reduce our deficits."
If these measures are approved, the eurozone will have taken a giant stride towards becoming both a monetary and a fiscal union.
Some sovereignty over tax and spending will have passed to Brussels, although how much will only become apparent over the weeks ahead.
There will be automatic punishment for any government that allows its budget to exceed 3% of GDP.
Countries will be required to enshrine in law a promise to balance their budgets. Some parliaments may baulk at limiting their freedom to decide on spending plans in the future.
Both Chancellor Angela Merkel and President Nicolas Sarkozy have made concessions.
'Surrender'
The Germans have accepted that the European Court of Justice will not be able to veto budgets but President Sarkozy has had to accept automatic sanctions for those who break the rules.
He has also conceded that eurobonds - common European debt - is off the agenda for the time being.
It is, however, the German vision that has sustained - tough discipline to keep budgets in check and austerity to drive down deficits.
The French Socialists who are challenging President Sarkozy in the election early next year say "austerity" was the big winner by a knockout. They judge that Nicolas Sarkozy has "surrendered" before the "German Conservative government of Angela Merkel".
As for Britain, Prime Minister David Cameron will face a tough decision as to whether he tries to win back powers from Europe in exchange for British support for a treaty change.
The biggest doubt that hangs over all this is, firstly, time.
The negotiations will go on for months and then there is underlying reality - none of these measures explain how the huge debt mountains will be brought down at a time of almost zero growth.