Irish budget to announce 1.6bn euros rise in taxes and charges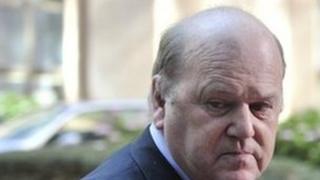 The Irish finance minister Michael Noonan is expected to announce details of 1.6bn euros of tax increases and extra charges in his budget speech on Tuesday.
It follows the announcement on Monday of spending cuts of more than 1bn euros.
Mr Noonan's speech will only deal with revenue raising.
Income tax rates will be left untouched, but the top rate of VAT will rise from 21% to 23%.
The Irish government estimates this will bring in 670m euros, however it could lead to more Irish shoppers travelling to Northern Ireland.
Other measures could include changes to capital taxes, motor tax, the carbon tax and property-related tax reliefs.
The Irish government outlined a fresh round of austerity measures, with the beginning of its two-day budget announcement in the Dail (Irish parliament) on Monday.
The budget - aimed at saving 3.8bn euros - is the first from the new coalition government in Dublin.
Public Expenditure Minister Brendan Howlin told Irish MPs: "Our country has suffered the greatest economic crisis in living memory leading to a large fall in Exchequer revenues."
He also touched on the crisis in the eurozone, saying: "Twelve months ago we were Europe's problem. Now problems in the European and global economy threaten our recovery."
Mr Howlin told the Dail that the public service pay bill will fall by 400m euros in 2012.
The number employed in the public service will be under 300,000 by the end of this year.
The overall cost of paying public servants will fall by 3.5bn euros, or 20%, over the seven-year period from 2008 to 2015.
The Implementation Body Public Service Agreement (2010 - 2014) estimated the public service pay bill for 2011 to be around 15.71bn euros.
Next year, the government plans to reduce the size of the public service by a further 6,000.
Mr Howlin said there would be some limited recruitment in the public sector in early 2012.
Third level student contributions will rise by 250 euros.
Other measures announced by the public expenditure minister include: 543m euros cut in health, 475m euros cut in social protection, a cut of six weeks in the fuel allowance and a reduction in child benefit for third and subsequent children.
Justice Minister Alan Shatter revealed that 31 Garda (Irish police) stations will close throughout the country.
There will be a reduction in the public opening hours of 10 other police stations in the Dublin area.