'Letter bomb' sent to Deutsche Bank's Josef Ackermann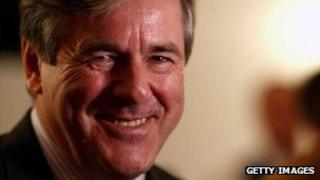 German police investigating a suspicious item sent to Deutsche Bank's Frankfurt headquarters say initial findings show it was an "operational letter bomb".
The item was addressed to the bank's chief executive, Josef Ackermann.
A letter from an Italian anarchist group has been found threatening three bomb attacks, police say.
Staff at the bank intercepted the letter on Wednesday and alerted police after X-raying it.
"Local police, working with specialists, defused the explosive," Hesse state police said.
Police experts said that during an intensive search a rolled-up note in Italian had been found, purporting to be from the Informal Anarchist Federation (FAI), speaking of "three explosions against banks, bankers, ticks and bloodsuckers".
Officials added that they assumed another two more bombs may have been sent.
The FAI had previously attacked European institutions mainly in Italy, but had also tried to attack the European Central Bank in 2003, police said.
US officials were reported as saying on Wednesday that the package contained explosives and shrapnel.
The New York Police Department (NYPD) has increased security around Deutsche Bank's US offices in New York.
The return address on the letter was that of the European Central Bank, which has its headquarters close to those of Deutsche Bank in central Frankfurt, NYPD spokesman Paul Browne told AP.