Eyewitness: Attack in Liege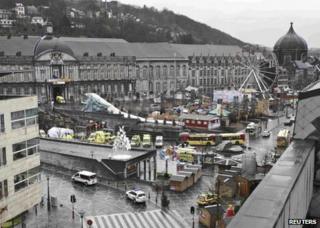 Witnesses to the gun and grenade attack in the Belgian city of Liege have described scenes of panic in the main square, near a busy Christmas Market.
Nicolas Gimenne, a journalist at local newspaper La Meuse, had spent the morning reporting on court proceedings inside the courthouse on the square.
Heading out to get something to eat, he was close to the Point Chaud bakery when he saw a man on the roof, just a short distance away.
"I had the impression he was throwing a round object at the coach station below," Mr Gimenne told La Meuse.
"I looked up in the noise and commotion and the man grabbed another object and removed the pin from it.
"Like a magistrate who was just in front of me, I began to run to get away. For a few seconds I didn't understand, couldn't believe, what was happening."
Mr Gimenne went into a department store where people were sheltering at the back, as security forces moved into the square.
"I passed within 4-5 metres of the attacker," he said. "I saw death close up."
'Total chaos'
Herve Taverne had also just left the courthouse when he saw a man throwing hand grenades.
"It happened so quickly we ran for our lives," he told Belgian radio.
"I picked up a youngster and took him back in the building.
"A little later a number of wounded people were brought in. Outside we could hear gunshots."
Dimitri Dehrese was driving his car past the market when the attack started.
"I heard a loud boom and I thought it was something wrong with my car, like it was broken or something," he told the Associated Press news agency.
"Then a few seconds after, there was a second boom and I saw all the glass breaking. I saw people running, screaming.
"I drove my car round the corner and then I saw in the market all the people lying down, bleeding [amid] the glass."
Mr Dehrese stopped his car to see if he could help. Police were directing people to get indoors.
"We saw policemen with guns in the market," he said. "It was total chaos."