UK will not turn its back on Europe - Kenny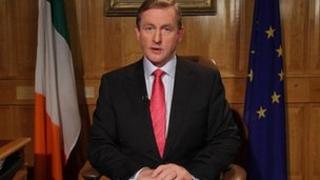 Ireland's prime minister, Enda Kenny, has said he is convinced the UK will not turn its back on the European Union (EU).
Mr Kenny, who spoke to Prime Minister David Cameron on Tuesday night, said that Britain was "very often our staunchest ally at the European table".
He also said that the extent of the EU rift should not be exaggerated.
Mr Kenny's comments were made in an address to the Irish parliament.
Speaking about last week's EU meeting in Brussels, Mr Kenny said he was disappointed that the UK was not able to agree a way forward with the other EU countries.
"What has happened is disappointing, but I would also not wish to exaggerate its import," he said.
"The UK has decided not to participate in the specific arrangements we agreed at last week's meeting.
"It has not, in any way, turned its back on the European Union, as Prime Minister Cameron made clear in his speech to the House of Commons this week."
Mr Kenny added that the UK was Ireland's closest neighbour and ally.
"It also brings a unique and important perspective to bear that will now be missing from these important debates.
"I will continue to work with Prime Minister Cameron, to whom I spoke again yesterday evening, to ensure that nothing is done that damages that most important achievement of the union."