Brit's seduction attempt floods luxury French villa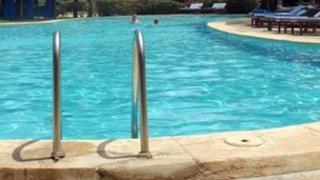 A 31-year-old British man has caused thousands of euros worth of damage after appropriating a luxury villa on the French coast, media reports say.
The man, said to come from Manchester, reportedly broke into the home near Nice to create a love-nest for an American girl he had met.
He tried to create a romantic atmosphere with champagne, candles and rose petals sprinkled round a bed.
But his attempts to fill the empty roof-top pool flooded the house below.
The man broke into the split-level property with a sea view in Roquebrune-Cap-Martin on 8 December, the newspaper says.
Candle-light and pirate flag
He reportedly told neighbours who saw him trying out his golf techniques on one of the property's lawns that he was organising a party for his girlfriend, with the owner's approval.
He made it his own by pinning up images of Winnie the Pooh and the Manchester United football team, as well as putting up a black pirate flag.
But, faced with an empty pool on the roof, he decided to fill it by turning on the outdoor showers and the garden watering system.
Then he left to go to Nice and meet his date, who turned up three hours late and refused to accompany him back.
When he finally returned he came face to face with the owner, an Italian businessman living on the French Riviera, who was horrified to discover that countless works of art had been damaged and that the ground floor of the home was knee-deep in water.
The total cost of the damage caused is said to be 60,000 euros (£50,000; $78,000), including broken heating and lift systems.
Having already spent more than a week in jail for not paying a luxury hotel bill in Monaco, the British man was taken into custody for another night and ordered to go before a judge next year.
The morning after the night before, the villa's owner reportedly answered his front door to the man, who informed him that he had slept in his car and wanted his things back.