Jacques Chirac awaits verdict in Paris corruption trial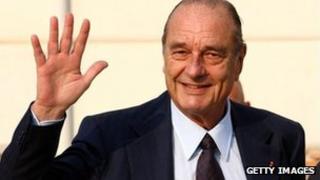 A Paris court is to give its verdict in a long-running corruption trial against former President Jacques Chirac.
He is accused of breach of trust and embezzlement of party funds during his time as Paris mayor from 1977 to 1995.
Mr Chirac, who has not been present during the trial because of ill health, faces up to 10 years in jail and a fine of 150,000 euros (£130,000).
He denies the charges and prosecutors have asked for the case against him to be dropped.
The trial of Mr Chirac and nine co-defendants began in March after 11 years of legal wrangling.
The 78-year-old was immune from prosecution while he was president from 1995 to 2007, despite persistent rumours of wrongdoing and is the first French former leader to stand trial since World War II.
He is accused on two counts of paying members of his Rally for the Republic (RPR) party for municipal jobs that did not exist.
But in September, prosecutors Michel Maes told the trial it had not been proven that Mr Chirac had known about "individual situations".
"I seek acquittal for all the accused on all charges," Mr Maes said.
A lawyer for Mr Chirac, who is reported to suffer from memory lapses, said his client was awaiting the verdict "calmly", said the AFP news agency.