Fears for lives of whales trapped in icy Russian waters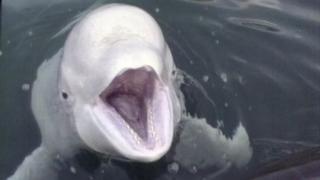 More than 100 Beluga whales are trapped in ice floes in Russia's far north-east Chukotka region.
Local authorities have urged Moscow to send an icebreaker to free them.
The whales are unable to swim to clear water because of huge volumes of ice in a channel in the Bering Sea, the Chukotka region said on its website.
A lack of food in the small area where they are trapped, plus the advancing ice, means the animals are threatened with exhaustion and death, it said.
Local hunters reported the plight of the animals trapped in the Sinyavinsky channel, near the village of Yanrakynot, to the authorities.
Chukotka Governor Roman Kopin has written to Russia's transport and emergencies ministers asking them to send an icebreaker to the channel to release the trapped whales.
The region says it is trying to do a survey to find the distance from the whales' location to open water, but is being hampered by poor visibility.
Beluga whales are also known as white whales and live in Arctic and sub-Arctic waters.
They are listed as "near-threatened" on the International Union for Conservation of Nature's red list.
Russian Prime Minister Vladimir Putin is a fan of the Beluga whale, and heads Russia's programme to protect the mammal. In 2009 on a visit to the Sea of Okhotsk he donned a wetsuit to attach a transmitter to a Beluga named Dasha.