Power cuts as storm lashes western France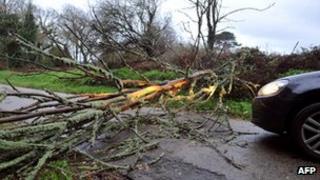 A storm battering north-western France has left about 200,000 homes without electricity and caused oil to leak from a cargo ship stranded off Brittany.
French authorities are racing to contain a slick about a kilometre long which now threatens Erdeven beach.
The 19 sailors on the Maltese-flagged TK Bremen are reported to be safe.
Winds of up to 133km/h (83mph) have lashed France, cutting power and felling trees. Switzerland is now in the storm's path as it moves east.
The low pressure system, called Storm Joachim, has caused gusts of 120km/h in the Swiss Jura.
Despite the disruption there are no reports of serious casualties so far.
A nuclear power station at Blayais in France's Gironde region is on a state of alert because of the storm.