Norway police response to Breivik' attack 'adequate'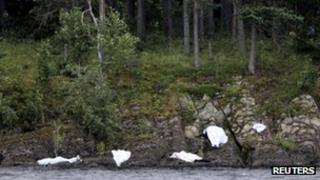 An inquiry by Norwegian police into its response to the attacks on 22 July in which 77 people were killed has found no officers hesitated in their duty.
A spokesman for victims' relatives accused the police internal inquiry of being too weak.
Dozens of teenagers attending a summer camp on the island of Utoeya were gunned down by Anders Behring Breivik.
It took police around an hour to get to Utoeya, with a dinghy used to ferry them breaking down.
This is an interim report ahead of the final report on the response which is due in March.
The commission's head, Olav Soenderland, said the evaluation committee had found "none of the officers on duty had hesitated to go into action against the perpetrator of the attacks on Utoeya as soon as they had the practical possibility".
He acknowledged that a rubber dinghy had been overloaded with police as they tried to make their way to the island and had broken down.
At a news conference, Mr Soenderland did not comment directly on a report in Dagbladet newspaper that local police believe they could have reached Utoeya 16 minutes earlier, had it not been for communication problems.
Trond Henry Blattmann, speaking for the families of the victims, told AP that the inquiry lacked self-criticism.
"[The police] should have asked themselves whether they, hypothetically, could have acted faster," he said. "If they had done so they might have come up with a different answer."
The high volume of phone calls to the emergency 112 number led to a queue of unanswered calls. Acting police director Vidar Refvik said work to increase the capacity of emergency call centres, so that it is possible to answer at least seven calls at once, will be completed early in 2012.
This internal police report is just one of three investigations into the police's response. A parliamentary committee is looking into it, and a government-appointed commission is due to conclude in autumn 2012.
Norway's Justice Minister, Knut Storberget, resigned last month and was replaced by Labour party veteran Grete Faremo.
Breivik has admitted carrying out the twin attacks on 22 July. Eight people were killed by a car bomb in central Oslo. Breivik then drove to Utoeya, where a summer youth camp of Norway's governing Labour Party was being held, and shot 69 people dead, mostly teenagers.
The attacks also wounded 151 people.
Psychiatrists assessing Breivik have concluded that he is suffering from paranoid schizophrenia and was in a psychotic state both during and after the attacks. That assessment means he is likely to be placed in psychiatric care rather than prison after his trial in April.