Russian oil rig search: hopes fade for survivors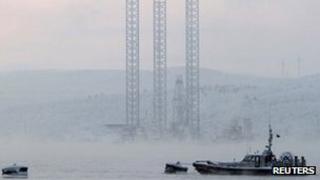 Russian rescue officials say they are still hoping for a miracle, a day after an oil rig with 67 people on board capsized under tow in icy seas.
Fourteen survivors and 14 bodies have been found but hopes are fading for the other 39 people who were on the Kolskaya rig off Russia's east coast.
A report that a life raft had been spotted carrying 15 people could not be confirmed, officials said.
Another five rafts were spotted earlier, but all of them were empty.
The reported sighting of a raft with people on board on Monday came from shipping company owner Yuri Melikhov who said it was not known whether they were dead or alive.
But a regional emergency ministry official said he knew of no such report.
"No information has come into our emergency headquarters about finding a raft with people on it," Sergey Viktorov told Russian news agency Interfax.
A dramatic account has emerged of what happened when the rig went down in high winds and rough seas 200km (120 miles) off Sakhalin Island as it was was being towed from the eastern peninsula of Kamchatka by an icebreaker and a tug.
One of the survivors, Sergei Grauman, told Russian TV a strong wave had smashed potholes in the dining room on the rig's platform, destroying equipment.
"Everyone rushed to the deck," he said. "It all felt like a movie."
Highly skilled crews had been working on the rig and on the vessels at the time and had all the necessary materials for dealing with an emergency, the rig's owner said.
Federal transport official Natalia Salkina said the search would continue until everyone involved had been found: "You can always hope for a miracle."
Many of the crew come from the northern region of Murmansk and governor Dmitry Dmitriyenkos said it was a "horrible tragedy".
Russian media questioned why so many people had been on the rig, when regulations stipulated that only the captain and a small crew were allowed to be there while it was being towed.