EU unveils mobile workforce plans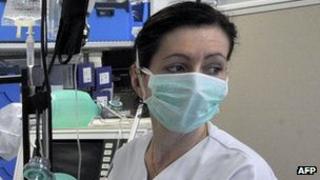 The EU has announced plans to improve professional mobility in Europe, including a new electronic certificate intended to speed up job applications.
The European Commission proposals also call for new minimum training standards and an alert mechanism to weed out incompetent practitioners.
UK Conservative MEP Emma McClarkin said mutual recognition of qualifications had been undermined by "inadequate checks on healthcare professionals".
She welcomed the Commission blueprint.
Ms McClarkin is one of the European Parliament's chief negotiators on the proposals, which update EU Directive 2005/36/EC.
"These proposals will make it easier for qualified professionals to apply for jobs across the single market, and harder for unqualified professionals to gain employment in sensitive sectors such as healthcare," she said.
In the UK there were calls for tighter controls on the cross-border hiring of medics in the EU after a German doctor, Daniel Ubani, gave a lethal drug overdose to a 70-year-old patient in Cambridgeshire in 2008.
Ms McClarkin said the new directive must allow healthcare authorities to test language skills.
The target date for agreement on the proposals is the end of 2012, which would mean the new directive becoming law in 2014.
The EU has about 800 categories of regulated professions but only seven have automatic recognition across the EU: doctors, dentists, pharmacists, nurses, midwives, veterinary surgeons and architects.