Norway attacks: How faith has helped Utoeya's families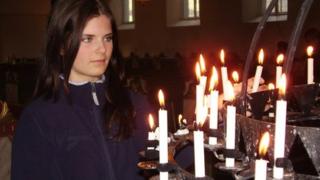 Five months since a bombing in Oslo and a massacre at a youth summer camp left 77 people dead, Tom Esslemont reports from Norway on the importance of religious faith for those affected by the attacks.
If 16-year-old Marte Fjermestad had not crouched behind a rock at the crucial moment on July 22nd she might not be alive.
"I just ran away from the action," she says in her first media interview since the attacks.
"There was a place where many got shot. I just ran past it. I remember grabbing people and saying 'help me what is going on?' They didn't know and they wanted to run as well."
Sixty-nine people, many of them as young as Marte, died on Utoeya Island. Some had tried in vain to hide in small buildings, while others were shot as they swam away.
Marte's fear of diving underwater may be what saved her life.
"I saw a guy who had climbed down [to the lake] and I just thought I have to get down there. That's what I did. I can swim but I am afraid of swimming underwater so I just decided to fit into the mountain and be invisible."
Marte waited with a small group of other teenagers until they were sure that the gunman had gone, in which time she says she felt a connection with God.
"I'm a Christian, so I prayed a lot. At one point I was praying to God and Jesus and I just looked up and saw some branch on a tree and it was shaped like a heart. It felt like God was saying: 'calm down'."
Like most of the 500 or so other people on the island Marte was taking part in a summer camp organised by the AUF, the youth wing of the Norwegian Labour Party.
The youngsters there reflected the diversity of Norwegian society: Christians, Muslims and secular Norwegians all having a good time together.
The gunman, Anders Behring Breivik, whose trial is due to begin in April 2012, had already bombed government buildings in Oslo killing eight people.
Few here forget the sense of sadness and unity in the immediate aftermath: a pastoral service at the Domkirke (the main cathedral) attracted thousands; a rose parade in Oslo attended by so many that the scent of pink and red petals lingered in the air for days.
Cathedral clergy say during the first two or three weeks after the attacks more than one million people came inside the church, while between two and three million congregated outside.
All this in a country where it is estimated that only 10% of all baptised Lutherans attend church regularly.
"We couldn't believe that it would be like that," says Olav Dag Hauge, Dean of Oslo Cathedral. He says he's noticed the size of church congregations are growing.
"A lot of people [came] during the week [and stood] outside the church. They came in, sitting for some time, lighting candles. They come every day. They stand still and then they go away."
Prayers and flowers
"The rose is a symbol of love," says Lisbeth Royneland whose 18-year-old daughter, Synne, died in the massacre.
As an atheist Lisbeth found the rose parades more helpful than anything related to the church, but was glad of its support.
"I don't why the Norwegian people reacted like we did. It was a gut feeling that we answered all these terrible things with roses."
She doesn't consider herself to be religious; her friends and family were the most valuable support.
"When I came back home one of my friends had put a rose on the table in the garden."
In the time I am with her, Lisbeth appears determined to put her sadness to one side so that she can focus on her daughter's story.
As she shows me Synne's bedroom, still untouched since the day she died, I find myself wanting to ask how she had come to terms with grief of such epic proportions. Did she need to pray?
"Not really. I was hoping to find her alive. It was so enormous, and so terrible an act that I didn't pray. I didn't. I wish I could."
On the evening of 22 July, Kristin Moen Saxegaard, a pastor from Ringerike, a county near Utoeya, was called to the Sundvolden hotel to counsel those who were waiting for news of their children.
"The parents often asked 'where was my daughter?' and 'was she alone at that time?'. And then I could say, as the pastor, that she was not alone when all this happened."
She said that many of them wanted her to pray on their behalf, wanting God to be with their children, whether they were alive or dead.
Power of love
My journey to Utoeya to visit the shrine to those who died takes me along a road that snakes its way through snow-covered hills and along the grey shores of Tyrifjorden, the lake in which the island is situated.
At the end of a jetty by the water, there's a large red stone covered in frost on which a brass heart hangs above an engraved quote that has been widely repeated: "If one man can show so much hate, just imagine how much love we can all show together."
It is a quote that many still call to mind when reflecting on the tragedy, including Knut Magnus Berge, senior correspondent for Norwegian broadcaster NRK.
"Well we certainly didn't need what happened last summer," he says. "There was a vulnerability that came into our society which was not there before."
Advent
Back in Oslo, as Christmas approaches, people dressed in thick winter jackets are queuing for an Advent service. The cathedral is nearly full, but not as full as it was in the days after the attacks.
In the crowd I spot Marte, who has returned to the cathedral for the first time since the memorial service. She tells me that she usually attends a different church close to her home.
"Being back really helps me to replace those memories with new Christmassy things," she says as she lights a candle.
"My faith is always helping me to stay calm. Every time I am at church it just relaxes me."
She and her mother head out of the cathedral, gently stepping on the icy pavement and out into the dark afternoon.