Esteban Alvarado pitch attacker jailed for six months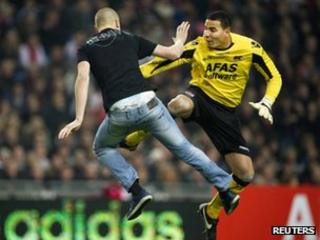 A Dutch court has sentenced a man who attacked a goalkeeper during a football match to a six-month prison term.
The man, identified under Dutch privacy laws only as Wesley van W, ran on to the Amsterdam Arena pitch on 21 December.
He tried to kick Esteban Alvarado from behind and the AZ Alkmaar goalkeeper retaliated by kicking the man twice.
Mr Alvarado was given a red card for misconduct but this was later rescinded.
Wesley van W told the court that he was very sorry for his actions and said he would also offer his apology to the AZ goalkeeper.
Two months of the prison term were suspended, meaning they will only have to be served if another offence is committed in the next two years.
Prosecutors had sought a 10-month prison term for the 19-year-old who, according to Dutch state broadcaster NOS, will also have to have treatment for his alcohol problem.
The court also ordered the man to report to police during all Ajax, Alkmaar and Dutch national team matches for the next two years.
The AZ Alkmaar - Ajax match will be replayed in full on 19 January with no spectators present.