Five injured in demonstration against UK Cyprus bases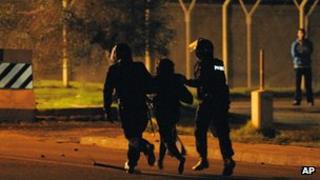 Five people have been injured during a demonstration against the presence of British military bases in Cyprus.
Stones were thrown and two people arrested during a protest on Monday by Greek Cypriots outside RAF Akrotiri.
Cyprus gained independence from Britain in 1960, although the UK maintains two big sovereign bases in the south and east of the island.
In 2009 Britain offered to hand over half of its sovereign territory in Cyprus to facilitate a peace deal.
Cyprus was split in a Turkish invasion in 1974 which followed a brief Greek-inspired coup.
The 2009 British offer was made by then Prime Minister Gordon Brown but is thought to have been renewed by the coalition government.
A British military spokesman said four civilian police officers guarding the bases were injured along with a TV cameraman who was hit by a stone.
The Cypriot press reported several injuries among demonstrators after clashes with the Sovereign Base Area (SBA) police.
An SBA spokewoman said a man and a woman had been arrested.
The existence of the bases is resented by many Greek Cypriots but protests against them have waxed and waned in recent years.
Last month Defence Minister Philip Hammond said Britain had an "enduring commitment" to the bases, which proved their strategic worth during the campaigns in Libya and Afghanistan.
As well as the RAF base at Akrotiri the British also control an army base at Dhekelia in eastern Cyprus.