The County Limerick village is accepted as a hometown on Facebook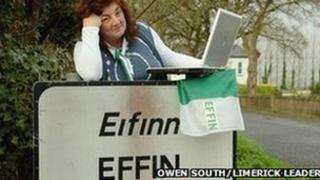 It is what you could call an Effin victory.
One woman from Effin in County Limerick in the Irish Republic has successfully won her campaign to have her hometown recognised by Facebook.
Ann Marie Kennedy, who works in the department of nursing and midwifery at the University of Limerick, had been unable to add the village name to the 'hometown' section of her profile on the social networking site.
The 47-year-old said she was "delighted" and had extra cause for celebration after some local residents realised the village name had been accepted on New Year's Eve.
The Effin native believed the place name had previously not been allowed as it was seen to be offensive.
Facebook responded at the time saying this was not the case and claimed it could have simply been a result of oversights in its mapping system.
Although Ms Kennedy said she has been successful, she is aware of many who are still experiencing problems.
She said a voting poll she has added to a separate Effin Facebook page has so far shown that 11 people have been able to add the village, but 10 - many of whom currently reside abroad - have not.
"It seems to be hit or miss at the moment," she said.
"It takes some people a few attempts and others have found it won't accept capital letters. It seems to be how you input it."
A Facebook spokesman said the issue had been resolved but was "a gradual fix".
He said the site's locations come from a variety of different sources and implementing any changes could take some time.
He reiterated Facebook were continuing to work to address this particular case.
Ms Kennedy said the support for the small village was evident as two Effin groups on the site had almost 1,000 members.
The village of Effin has a population of around 1,000 and is about 40km south of Limerick city near Charleville.
It has been suggested that the village's name origins lie in Cill or Teampaill Eiffin, meaning the Temple or Church of St Effin.