House is damaged in fire at Castle Cosy in County Louth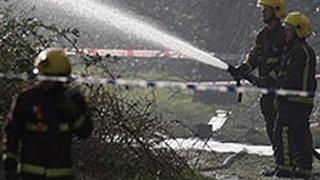 Extensive damage has been caused to a house in County Louth in the Irish Republic following an overnight fire.
Up to 25 fire fighters were called to help extinguish the blaze at the property at Castle Cosy in Castlebellingham.
Two men were treated for smoke inhalation at the scene.
An army bomb disposal team had earlier been called in as a precaution due to safety concerns over items which may have been in the house.
It is understood the owner of the house may be a collector of military artefacts.
The men who were treated for smoke inhalation were not in the house at the time of the fire, but came across it and tried to extinguish it before raising the alarm.
Irish police and the fire brigade attended the scene.
A number of items have been taken away for further examination.