EU urged to limit live animal journeys to eight hours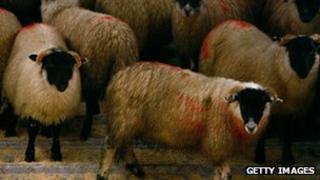 More than one million people have signed an online petition to improve the welfare of animals transported to slaughter across Europe.
The Euro MP behind the campaign, Danish Socialist Dan Jorgensen, says it "shows the big public demand for action".
"I definitely expect the European Commission to act on this," he told BBC News. The aim is to put a ceiling of eight hours on live animal journeys.
A Commission study found big variations in animal welfare across the EU.
The current EU regulation on protection of animals during transport, called No 1/2005, allows transports of live animals lasting longer than 24 hours. But journeys of over eight hours are supposed to be more strictly controlled.
The study, published last November, found that 27.8m live pigs were transported across borders in the EU in 2009 - by far the largest group of animals. It was a 70% increase on the figure for 2005.
The figures for other animals in 2009 were: 4.3m sheep, 4.3m cattle and 147,122 horses. For poultry the figure was more than one billion.
In France a contractor has to pay 605 euros (£500; $773) for a permit to transport live animals, while in Bulgaria the same authorisation costs just 33 euros.
Mr Jorgensen says new legislation is needed to incentivise countries to slaughter animals as near as possible to the farms where they were reared.
Under the EU's Lisbon Treaty the Commission has to consider legislating on an issue if at least one million signatures are collected in a public petition.
The 8hours campaign started before the new EU rules were in force, but Mr Jorgensen said the strength of public opinion on the issue of live animal transports would outweigh any bureaucratic objections.
Several animal welfare groups are backing the campaign, including Animals' Angels, based in Germany.
Inadequate controls
EU Regulation No 1/2005 says vehicles approved for long live animal transports must keep data logs, to record their journeys.
But the Commission study found that "few controlling authorities use the data collected... to carry out checks".
The study said lack of enforcement "can have severe negative impact on animal welfare". It found recurring examples of poor compliance, including:
Transport of unfit animals
Overstocking of vehicles
Inappropriate internal height of vehicles
Animals not receiving enough water during the journey
Animals transported longer than the maximum allowed travelling time.
Mr Jorgensen is also collecting signatures from MEPs backing the 8hours campaign.
The European Parliament will officially back the campaign if 378 MEPs sign up to it by 15 March. So far 119 have signed.
"The Commission always talks about how the EU should mean something for ordinary citizens. This is a very good example... it's clearly something the EU should do, it's a common problem, as animals are transported across borders," Mr Jorgensen said.