Irish couple recall Italian cruise ship ordeal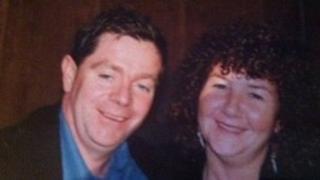 An Irish couple have been speaking about their escape from a cruise ship that ran aground off the coast of Italy.
Seamus and Carol Moore from Clonmel, County Tipperary, were on the cruise for a birthday celebration.
Three people are known to have died and about 40 are still unaccounted for.
Mr Moore said he and his wife got into a lifeboat which was overcrowded.
"For me, it was particularly when the lifeboat half collapsed, because at that stage I thought we're dangling over water," he told RTE News.
"We were either going to be kicked out, or it was going to break completely and fall into the water, and that would have been down a few storeys.
"My wife thought that when the ship fully lifted, that was when we were going to lose our lives."
Mr Moore said he and wife decided they were going to survive.
"I suppose that's when any panic we had dissolved, and we said: 'Look we'll just make decisions as situations change and do what we can'," he said.
"When I managed to climb up onto the roof of the ship, the first thing I noticed was what a beautiful night it was, a balmy night in the Mediterranean.
"We decided to ring our friend who was caring for our youngest son, our two other children are students... just to let him know what the situation was, not to say anything to the children initially and to tell the kids that we loved them and tell them what our arrangements were in terms of leaving stuff, just in case.
"I suppose we were being practical and we had a plan that if it seemed the ship was going to roll, we would take to the water. Thankfully that didn't happen."
The Department of Foreign Affairs in the Republic is providing assistance to the couple.
Divers are searching rooms in the Costa Concordia, which is lying on its side 200m (650ft) off Giglio island.
It sank on the first night of a Mediterranean cruise on Friday. Most of its 4,000 passengers and crew reached land by lifeboats but some swam ashore.
Police have questioned the captain.