French police on trial over man's death in custody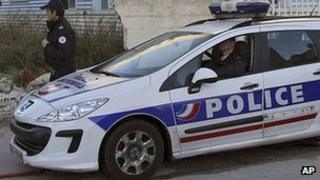 Seven police officers have gone on trial in the south of France over the fatal suffocation of a 22-year-old detainee, Hakim Ajimi, in 2008.
Two of those on trial in Grasse, near the French Riviera, are suspected of involuntary manslaughter. They could face three years in jail.
The other five are accused of failure to assist a person in peril.
A medical report found that police had shackled Ajimi in the street, gripped his neck and sat on him before he died.
Ajimi had earlier resisted arrest and injured an officer, following an argument with his bank manager, the French daily Le Monde reports.
The Ajimi family's lawyer said Ajimi was put in a police vehicle after being restrained, "unconscious or already dead".