Group to protest Vatican embassy closure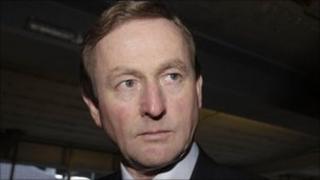 Members of a Catholic lay group plan to meet with politicians in Dublin later to voice frustration over the closure of Ireland's embassy to the Vatican.
The group, 'Ireland Stand Up', is also campaigning for Taoiseach Enda Kenny to issue a personal invitation to Pope Benedict XVI to come to Dublin this summer.
They want him to attend the International Eucharistic Congress.
The congress is staged every four years and was last held in Dublin in 1932.
It is estimated that some 15,000 people will travel to Dublin for the week of Catholic events.
"Ireland is holding the equivalent of a Catholic Olympics and we would like to see the Pope invited to the closing ceremony " said Mary Fitzgibbon, spokesperson for 'Ireland Stand Up'.
"The economic and spiritual benefits will be enormous for Irish people."
"We received a letter from the Pope earlier this month in which he said that he appreciates the sentiments which prompted this thoughtful gesture."
In November, Ireland's minister for foreign affairs said the decision to close the embassy to the Vatican was taken on cost grounds.
Eamon Gilmore noted that while the embassy in the Holy See was one of the Republic's oldest diplomatic missions, it yielded no economic return.
"Mr Gilmore recently spoke of human rights and needing to listen to people" Ms Fitzgibbon said.
"This is an issue of grave importance to us and we are asking him to listen."