Huffington Post job for Strauss-Kahn wife Anne Sinclair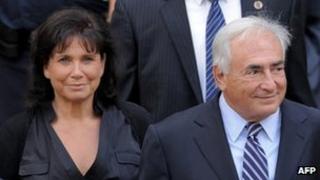 The wife of former IMF chief Dominique Strauss-Kahn is to edit a French edition of the US news and opinion website Huffington Post.
Anne Sinclair, a former French TV news presenter anchor and wealthy heiress, will be "editorial director" for HuffPo France when it launches.
The site will be co-produced by liberal French newspaper Le Monde.
Sinclair, 63, was voted France's most popular woman in a December poll for an online women's magazine.
She has publicly stood by her husband through a series of sex scandals which began last year in New York, where he was accused of trying to rape a hotel chambermaid.
'Private relationship'
Charges were dropped amid questions about the maid's credibility but he resigned from his job as director of the IMF.
His ambitions to stand for president of France as a Socialist candidate this year were left in tatters.
He has also fought off a separate attempted rape case in France and has been dogged by accusations that he used prostitutes at orgies he attended.
Sinclair hosted a popular political show for more than 13 years on French private TV channel TF1.
She gave up the job when Mr Strauss-Kahn became French finance minister in 1997.
In an interview with Elle Magazine on Wednesday, she defended her decision to stand by her husband despite the accusations.
"Nobody knows what happens in a private relationship, and I deny anyone the right to judge mine," she said.
"I am comfortable with my decisions, my actions, I made them independently."
An opinion poll carried out for Terrafemina, a French online women's magazine, named her as France's Woman of the Year 2012.
Writer Tristane Banon, who lost an attempt in October to have Mr Strauss-Kahn prosecuted for trying to rape her in 2003, came 10th in the same survey.
HuffPo France, a partnership between Le Monde, Huffington Post and the banker Matthieu Pigasse, will incorporate French news website Le Post, already owned by Le Monde.