Dutch crime boss Willem Holleeder freed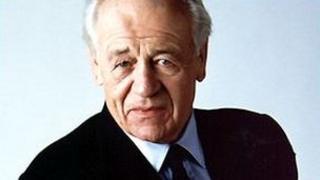 Willem Holleeder, a Dutch criminal notorious for the 1983 kidnapping of beer tycoon Freddy Heineken, has been released from jail.
He was freed after serving two-thirds of a nine-year term for extorting money from two men who were later killed.
Holleeder, 53, was not due to be freed until next Tuesday, but left De Schie prison in Rotterdam early to avoid publicity.
He had also spent more than six years in jail for the Heineken kidnapping.
Holleeder was driven away from the prison early on Friday to a secret location, according to Dutch media, to prevent him from being targeted in a possible attack.
The Dutch authorities have linked him to the fatal shootings of a number of figures, including two property dealers, a drug dealer and a cafe owner.
However, no conclusive evidence has been found and prosecutors say the case is still open.
Holleeder was first convicted along with three others for the kidnapping of Freddy Heineken, who was abducted with his chauffeur for three weeks before a ransom of millions of guilders was paid.
The beer magnate was released unharmed.
Dubbed "The Nose" by Dutch media, Holleeder was arrested again in 2006 and accused of extortion.
In 2002, a photo had emerged of him sitting with property dealer Willem Endstra, one of the men he had blackmailed. Endstra was murdered in 2004.
Reports say Holleeder had major heart surgery shortly after the case began in 2006.