Snowstorms cause deaths in Romania and Bulgaria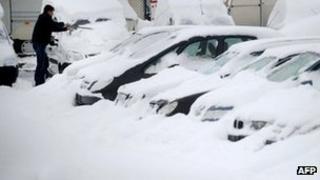 Five people have died after blizzards blocked roads in southern Romania and northern Bulgaria.
Dozens of people were stranded in their cars and hundreds of villages were left without power.
Four people died in Romania, including an elderly woman whose body was found in the street and a man who suffered hypothermia in his car, reports said.
In Bulgaria, where snowdrifts reached two metres (6.5ft) in some places, a homeless man died in a bus shelter.
In some areas a state of emergency was declared and officials urged the public to avoid travel if it was not necessary.
The regions of Dobrich and Varna in the north-east of Bulgaria were among the worst affected.
Dozens of major roads in Romania were closed on Friday afternoon, reports said.
Two of the four deaths linked to the heavy snow occurred when ambulances were unable to get through in response to emergency calls.