Wife of captain requests help in Cork trawler search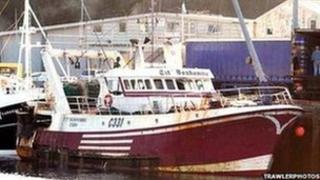 The wife of a captain still missing after his trawler went missing off the Cork coast two weeks ago has asked for experienced divers to help in the search.
Skipper Michael Hayes, 52, is still missing, along with fisherman Saied Ali Eldin, after the Tit Bonhomme sank in heavy seas in Glendore Bay.
Caitlin Ni Aodha said the last fortnight had been "horrific".
"It's almost like you're at a standstill," she said.
"You are just really hoping something will happen in the next few minutes that will change things."
She said she was now hoping for closure.
"It is good news if we pick them up and that's what we are looking for now," she added
The bodies of 26-year-old Egyptian crew member Attia Shaban and Dublin student Kevin Kershaw, 21, were recovered last Thursday.
The body of Egyptian crew member Wael Mohammed was found on Sunday.
Another man was rescued from the water on the day of the sinking.
Dives and a search of eight miles on land has been continuing ever since the trawler sank.