Costa Concordia: French prosecutors probe disaster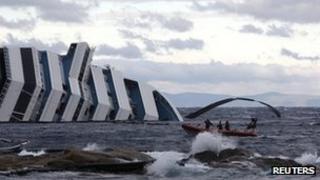 French prosecutors have launched an investigation into last month's cruise ship disaster off Italy, in which 32 people are believed to have died.
Prosecutors said French survivors would be questioned to "determine the circumstances of the shipwreck and evacuation and rescue conditions" on board the Costa Concordia.
Some 450 French nationals were aboard the cruise ship when it ran aground.
Four French nationals died and two others are among the missing.
French coastguard will have to "assess the [victims'] personal injury and psychological impact caused by this accident", the Paris prosecutor's office said in a statement.
The prosecutors have been tasked with gathering all the complaints made ​by victims in France. The number of complaints is not known.
The Costa Concordia ran aground off the Tuscan island of Giglio on 13 January, when the captain deviated from his planned route and struck a reef, creating a huge gash.
Some 4,200 passengers and crew were on board when the vessel capsized. A total of 17 bodies have been recovered and 15 others are missing, but presumed dead.
On Tuesday, civil protection officials called off the search for the missing in the submerged part of the ship because of safety concerns.
The captain has been accused of manslaughter, causing a shipwreck and abandoning the ship before all those aboard were evacuated.