Costa Concordia: Moldovan woman 'on bridge with Captain'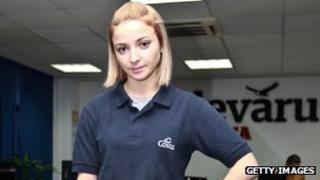 A Moldovan woman who reportedly dined with the Costa Concordia captain has told investigators she was on the bridge when the cruise ship ran aground, Italian media say.
Domnica Cemortan, 24, was questioned by Italian officials in Grosseto for almost six hours.
Officials said her testimony would be compared with other accounts, including that of Capt Francesco Schettino.
At least 32 people died in the accident off the Tuscan coast in January.
Capt Schettino is under house arrest and has been accused of manslaughter, causing a shipwreck and abandoning ship before all those aboard were evacuated.
Ms Cemortan is a former employee of Costa Cruises, the company that operates the Costa Concordia.
"When the accident happened, I was on the bridge," she is reported as telling investigators.
The reported testimony contradicts that of the captain himself - according to Il Messaggero newspaper - who told investigators that there were no non-crew members on the ship's bridge at the time of the impact.
According to Italy's Corriere della Sera newspaper, Ms Cemortan confessed to having a "weakness" for the captain and told investigators that he had been a "hero" for saving so many lives.
The Costa Concordia ran aground near the Tuscan island of Giglio on 13 January, when the captain deviated from his planned route and struck a reef, creating a huge gash.
Some 4,200 passengers and crew were on board when the vessel capsized.