French air workers to hold strike next week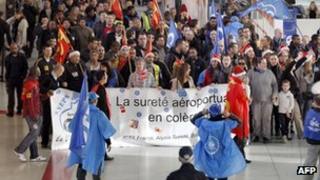 Unions representing French pilots, cabin crew and ground staff have announced a four-day strike next week.
Workers plan to strike from Monday to Thursday to protest against a bill currently going through parliament.
The bill, put forward by President Nicolas Sarkozy's party, would require aviation workers to give more notice of industrial action.
Unions say the bill, which has already passed through the lower house, would affect workers' rights.
Air France says its customers due to travel between 6 and 9 February can change their flights.
In a statement, the airline said it was doing "all it can to limit the impact of this strike on its operations".
The French pilots' union SNPL said the right to strike was non-negotiable and the union had decided to mobilise all its energies "against a bill which is unfair and destructive to our profession".
Before Christmas a last-minute strike by security staff at French airports led to the government deploying police to try and minimise disruption.