Search continues for fishermen in County Cork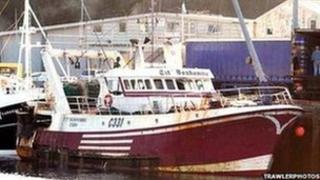 The search is continuing for two men who are still missing after a trawler sank off the Cork coast last month.
Skipper Michael Hayes, 52, is still missing, along with fisherman Saied Ali Eldin, after the Tit Bonhomme sank in heavy seas near Adam's Island in Glendore Bay on 15 January.
The bodies of Egyptian crew members Attia Shaban and Wael Mohammed as well as Dublin student Kevin Kershaw, 21, have been recovered.
Another man was rescued from the water on the day of the sinking.
The Irish Prime Minister, Enda Kenny, visited the Union Hall area in County Cork at the weekend to speak to those families affected by the tragedy and thank those taking part in the search.
John Kearney, who has been coordinating the diving operation, said hundreds of volunteers had been involved to date.
He said: "Most of these searches wind down after 21 days.
"The mainstream searches scale back.
"But what is happening is we have divers still there this morning even at first light and we have volunteer divers committed up until the weekend to continue the search.
"The volunteers do it out of their total goodwill, a lot of people have taken time off work at their own expense."