Bill Clinton hosts Invest in Ireland event in New York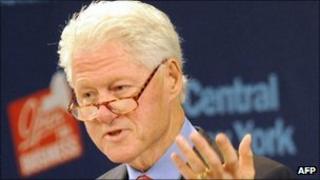 Former US president Bill Clinton is to host an "Invest in Ireland" discussion in New York on Thursday.
The event aims to encourage key business and economic leaders to invest in the Republic's economic recovery.
Attending the event will be Prime Minister (Taoiseach) Enda Kenny, Deputy Prime Minister Eamon Gilmore and Minister for Jobs Richard Bruton.
The discussion will be moderated by the Governor of Maryland, Martin O'Malley.
Business and economic leaders from around the world will also be there.
It will be followed by the Invest in Ireland Forum to be attended by Mr Kenny, Mr Gilmore and Mr Bruton.
It is expected that some 100 people from the Global Irish Network, influential "friends of Ireland", and existing investors in Ireland will participate in the forum.
President Clinton will attend for the beginning of the event where he will make some opening remarks.
The taoiseach will address the forum on the progress Ireland is making in dealing with the economic challenges the country is facing.
The tanaiste (Mr Gilmore) will brief the forum on the progress that has been made since the Global Irish Economic Forum was held in Dublin last year.
Afterwards there will be a discussion on matters of key economic importance to Ireland.