Russian election: Grigory Yavlinsky vote ban upheld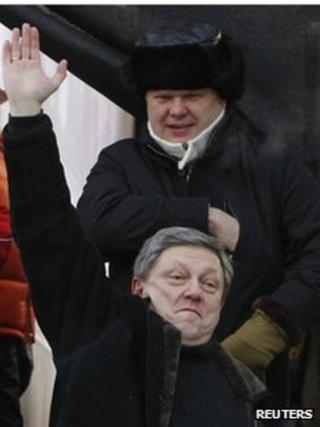 The Russian Supreme Court has backed a decision that disqualifies liberal candidate Grigory Yavlinsky from running for the presidency on 4 March.
The Central Election Commission said it had found irregularities in a quarter of the signatures collected by Mr Yavlinsky to take part in the campaign.
Mr Yavlinsky, 59, had insisted that all the signatures were authentic.
He was the only liberal challenger to Prime Minister Vladimir Putin, who is expected to win the election.
Mr Yavlinsky had not been expected to mount a serious threat to Mr Putin after his Yabloko party had failed to poll the necessary 7% of the vote in December's parliamentary vote to secure a seat in the lower house or Duma.
As Yabloko had no parliamentary representation, he had to secure two million signatures in order to stand as a candidate and had condemned the election commission's decision to bar him as "political".
He did not appear in court himself on Wednesday whereas three commission experts took part in the hearing.
At an opposition rally on Saturday, Mr Yavlinsky told protesters that "life does not end on March the 4th or even 5th", insisting that the political fight would continue after the election.