Greece bailout: 'Substantial progress' after eurozone talks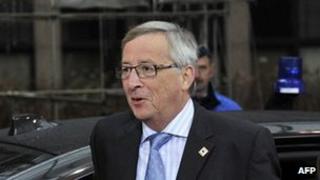 Greece has made "substantial progress" in convincing eurozone nations that it should get fresh bailout funds, but there will likely be no decision until Monday, the head of the Eurogroup says.
Jean-Claude Juncker said more work was needed to strengthen surveillance of how Greece's austerity proposals would be implemented.
He was speaking after a conference call with eurozone finance ministers.
Athens hopes for a 130bn-euro (£110bn; $170bn) bailout from the EU and IMF.
The "troika" of institutional lenders - the EU, the International Monetary Fund (IMF) and the European Central Bank (ECB) - have been demanding that Greece identify 325m euros of further spending cuts.
"Substantial further progress has been made since yesterday," Mr Juncker said in a statement.
"First, we received the strong assurances provided by the leaders of the two coalition parties in Greece's government.
"Second, the troika finalised and presented its analysis on the sustainability of Greece's public debt.
"Third, further technical work between Greece and the troika has led to the identification of the required additional consolidation measures of 325 million euros and the establishment of a detailed list of prior actions together with a timeline for their implementation."
'Debt servicing'
A deal needs to be agreed soon, because Greece faces a looming deadline in mid-March when it needs to make repayments on a 14.5bn euro bond, or face bankruptcy.
The Greek parliament had approved a package of austerity measures on Sunday, but eurozone ministers indicated on Tuesday that more detail needed to be given on the cuts.
The ministers also insisted that the major Greek political parties committed to implementing the cuts, regardless of who wins a general election scheduled for April.
Leaders of the two main parties have now signed letters committing them to enacting the changes.
"Further considerations are necessary regarding the specific mechanisms to strengthen the surveillance of programme implementation and to ensure that priority is given to debt servicing," Mr Juncker continued in his statement.
He added: "I am confident that the Eurogroup will be able to take all the necessary decisions on Monday 20 February."
If eurozone ministers do decide that day to sign off a rescue package, then Greece could also announce a debt swap scheme with private bondholders.
"These issues will be prepared at a euro working group meeting on Sunday in Brussels so that with good faith, the final decision for the approval of the programme is taken and the public announcement of the PSI (debt swap) is made on Monday," said Greek finance minister Evangelos Venizelos after the conference call.
Earlier, Mr Venizelos said there were "very few remaining issues" with the austerity package and promised to have them "fully clarified" before the conference call.
But he also warned that some eurozone countries were "playing with fire", saying: "There are many in the eurozone who don't want us any more."
Mr Venizelos also said that President Karolos Papoulias had volunteered to give up his salary as an "honourable... symbolic gesture". He is reported to earn 280,000 euros a year.